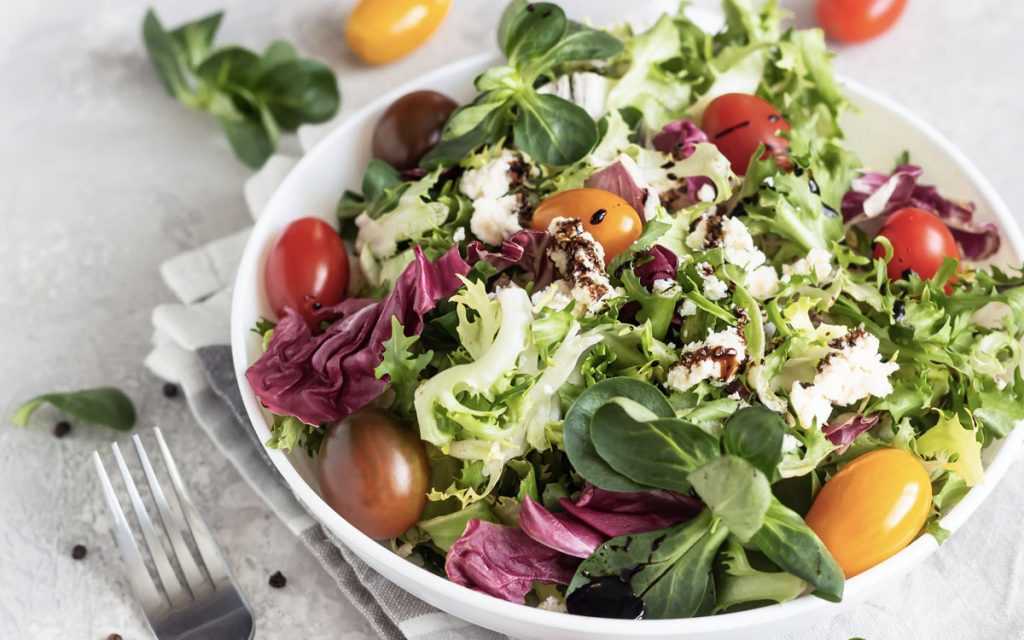 Seasonal Salads at the Shore
Whether you are looking to pair it with fresh, local seafood or enjoy it as your entree, there are a lot of Cape May salads to choose from. And in some cases, the ingredients are grown locally and sourced from one of the many farmers' markets on Cape Island. 
In no particular order, here's a list of local restaurants on Cape Island serving up seasonal salads at the shore. 
Exit Zero Filling Station
The Exit Zero Filling Station menu includes a Chopper salad with mixed greens, avocado, grated carrots, red cabbage, red onion, parmesan, almonds, crispy chickpeas, black olives and cherry tomatoes. Complete your healthy meal by adding chicken, shrimp, or salmon along with your choice of balsamic vinaigrette or house-made blue cheese.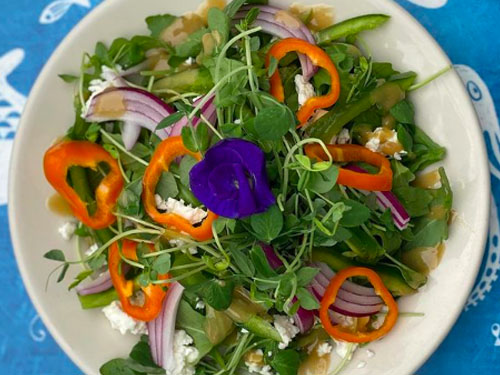 Louisa's rotating farm-to-table fare always features a few fresh salad options. Try their seasonal Beach Plum Farm salad or their Roasted Beet and Spinach salad with gorgonzola cheese and vidalia onions. And be sure to check their chalkboard menu for specials.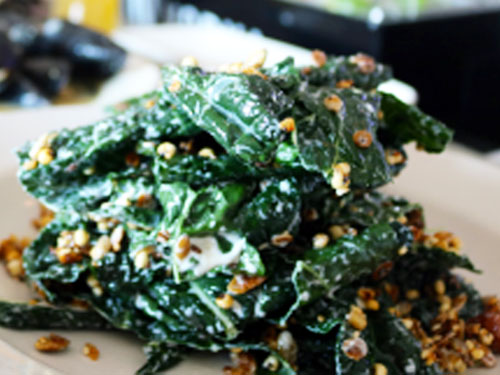 Mayer's Tavern is known for their signature scallops and mouth-watering burgers, but if you want a lighter option check out their Black Kale salad. Served with their yogurt tahini and seed granola, this salad combines a deep, earthy flavor with a fresh yogurt-based dressing.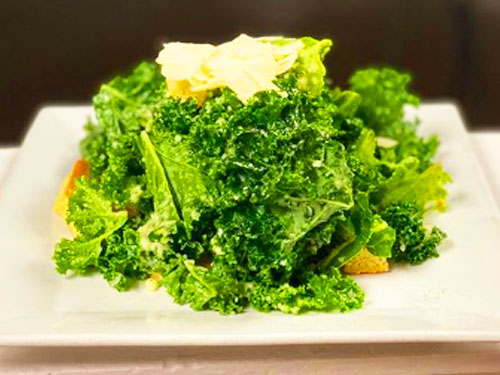 Tisha's features tasty side salads on both their lunch and dinner menus. For lunch, try their classic Cobb salad or order their House Specialty salad with grilled or crispy chicken on romaine, tomato relish, red onion, cucumbers, hard boiled egg, and house-made buffalo blue cheese dressing. For dinner, enjoy their simple and delicious Kale Caesar salad with pecorino romano, anchovies, and their house-made caesar dressing.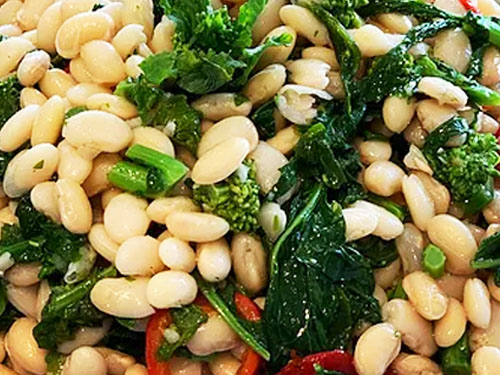 Homestyle serves up fresh takeout salads for lunch and dinner. Order classic salads like their House, Caesar, or Spinach. Or try their Quinoa salad with mixed greens, quinoa, roasted corn and peppers, black beans, tomatoes, cucumbers, and white balsamic vinaigrette. Their pre-order and catering menu also features family-style options.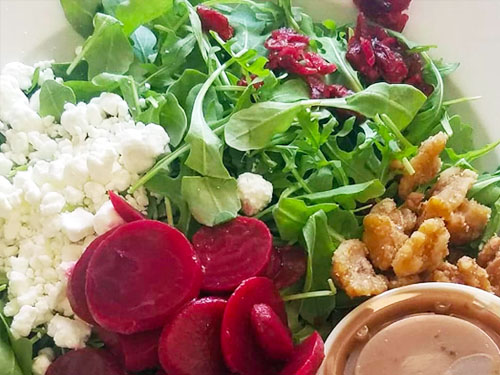 Bella Vida serves up fresh and full-sized salads for lunch and dinner. Order up their spinach and berry salad for a light lunch, or try their version of a Cobb salad with mixed greens, tomato, bacon, avocado, homemade black bean corn salsa and feta cheese. For dinner, try their sweet and savory Arugula, Beets & Goat Cheese salad topped with salmon, chicken, or coconut shrimp.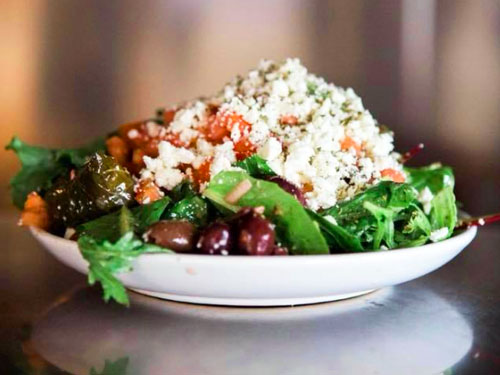 With two Cape May locations, George's Place offers up some of the freshest food in town. That includes their over-sized lunch salads: Lemon Chicken Greek salad, Cobb salad, Mediterranean salad, and Chicken Caesar salad.  For dinner, don't miss their classic Greek side salad.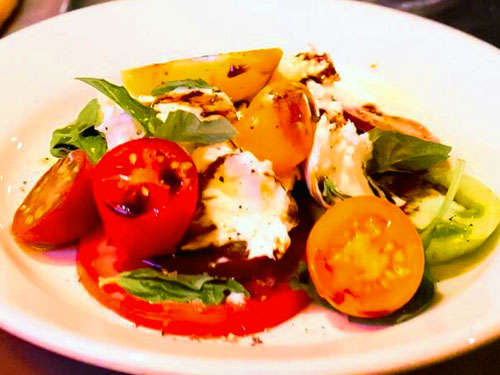 Located inside historic Congress Hall, the Boiler Room serves up some farm-fresh salads as well as their signature brick oven pizzas. Try their Beach Plum Farm Greens salad, Classic Wedge salad, Caesar Salad, or Heirloom Tomato Caprese Salad. Or order their Prosciutto & Arugula pizza – it's like a salad on a pizza crust!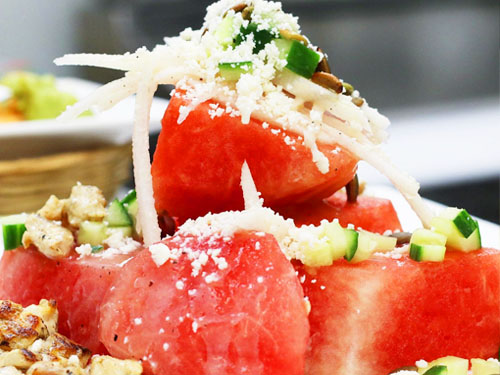 Mexican food doesn't usually make you think of fresh salads, but La Doña isn't your typical Mexican restaurant. Their dinner menu includes a delicious Caesar salad and an Arugula salad with mango, jicama, and radishes. But it's their Ensalata De Sandia, a watermelon salad with jicama, cucumbers, pumpkin seeds, Mexican cheese, and homemade citrus vinaigrette, that steals the show.
Good Earth Organic Eatery
Good Earth's organic menu features fresh salads like their Vegan Caesar salad and their spinach Beet salads. But if you want to get your veggies in a creative way, try their daily mixed veggie plate special served with a side soup and whole grain of the day.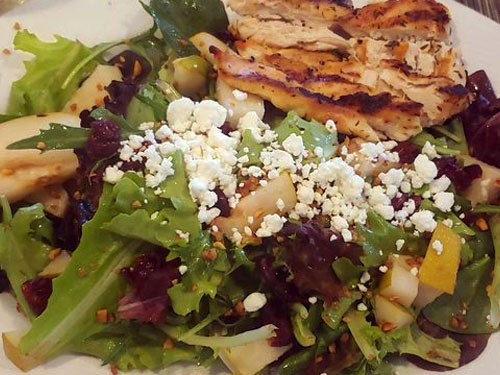 Dine along the waterfront with beautiful marina views and enjoy one of Saltwater's fresh salads for lunch. Try their signature Sweet Bitterfield Greens salad with spring mix, candied walnuts, craisins, and balsamic vinaigrette.  Keep it classic with the Caesar or Wedge salad. Or expand your horizons with their Green Avocado and Pear salad. Add grilled chicken, wild salmon, lump crab, or grilled shrimp to any salad.
Sign up to receive emails, special offers, and insider information from Cape May Eats. Be the first to know about Cape May dining updates.