When you want a break from eating fresh seafood at the shore, a good, juicy burger usually hits the spot. And whether you're looking for a high-end burger experience, want a casual lunch, or just want to grab take-out, Cape May has some great options to satisfy your carnivorous cravings.
In no particular order, here's a list of local restaurants serving up top-notch burgers at the beach.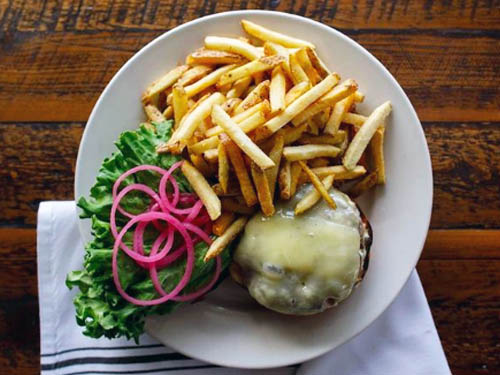 Mayer's Tavern serves up a mouth-watering grass-fed Angus burger with pickled onions, Dijon mayo, and optional cheese on a brioche bun. Paired with their signature hand-cut french fries and one of their craft cocktails, this burger is addictingly delicious. No reservations.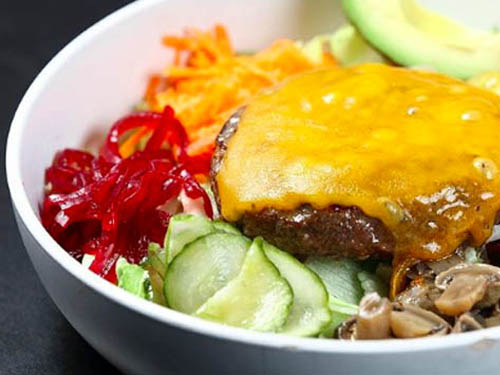 Exit Zero Filling Station
The creative menu at Exit Zero Filling Station includes a variety of burgers made from a gourmet blend of short rib, filet, and chuck, served on a Le Bus bun with their crispy waffle fries. Build your own or choose from their Americana, Holy Guacamole, or Bollywood burgers. Or skip the bun and try one of their gluten free burger bowls. No reservations.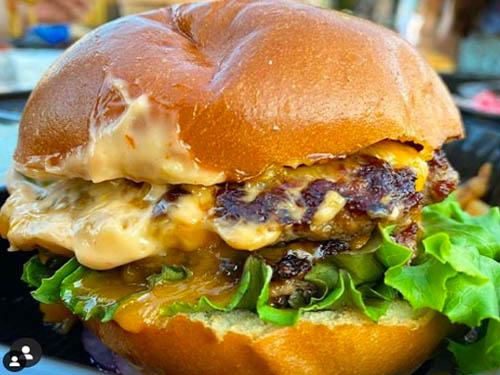 Their 1/2 pound Rolling Bones Smashed Burger combines two smashed patties made with a special blend of short rib, brisket, chuck, and hanger steak. Topped with lettuce, tomato, onions, and their secret sauce on a brioche bun, this mouthwatering masterpiece is served with a side of their house-cut fries, pickles, and slaw. Reservations recommended. 
Tisha's offers their tasty spin on a classic cheeseburger, complete with American cheese, lettuce, tomato, and onions, along with a selection of specialty burgers including the "2020 burger" with bacon, grilled bell peppers, caramelized onions and jack cheese on brioche bun.  Because their burgers are not available on the dinner menu, it's a great excuse to try Tisha's for lunch. Reservations recommended.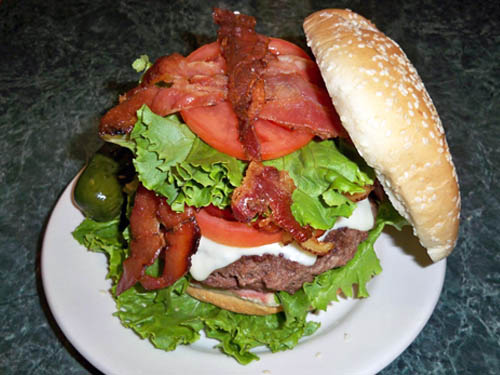 This Cape May institution has been serving up 10 ounce juicy burgers for more than 50 years. Their menu includes the classic hamburger or cheeseburger, plus specialty burgers like their Cajun Cheeseburger, their Ocean Burger topped with homemade shrimp imperial, and their Maryland Burger topped with Jumbo lump crab meat imperial. No reservations.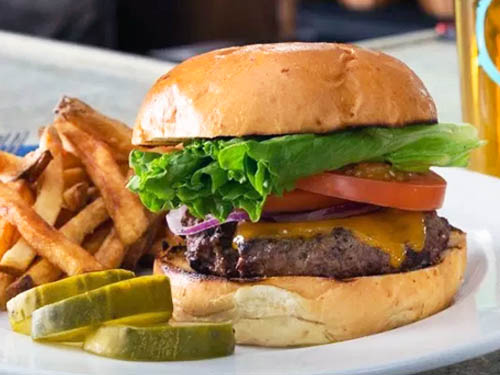 This iconic downtown eatery cooks up a tasty 8 oz. chargrilled burger for lunch, dinner, or takeout. Served on a white country bun or a gluten free roll, it comes with lettuce, tomato, and onion, along with fries and your choice of five types of cheese: cheddar, swiss, brie, american, or bleu cheese. No reservations.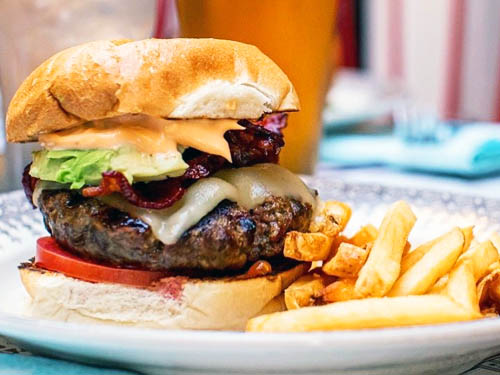 Located inside historic Congress Hall, the Blue Pig serves up a classic American burger on a brioche bun with a side of tavern fries for lunch or dinner. They also offer a smaller burger just for kids. Reservations recommended.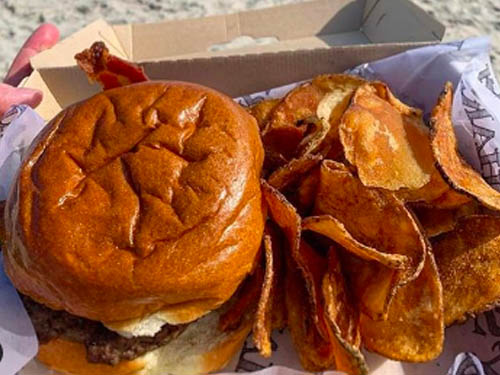 Everything tastes better outside so order one of Harry's burgers while soaking up the sun on their rooftop. Choose from a basic cheeseburger or their signature Prime Rib Burger made with ground ribeye. fried egg, Vermont cheddar, and A1 steak aoili, on a brioche bun. Both are served with their house made kettle chips.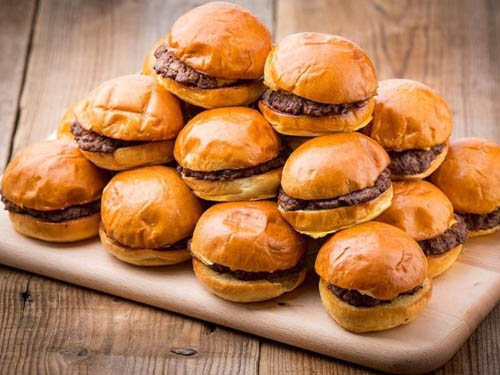 The C-View serves up a variety of 6 ounce chargrilled burgers for lunch or dinner, but if you stop by on Thursdays you can choose from their slider specials for $2 each. Try their traditional burger sliders, or mix it up with their pork BBQ, pastrami, cod, or cheesesteak sliders. 
Address: 1380 Washington Street
Hours: Daily, 11 am to 2 am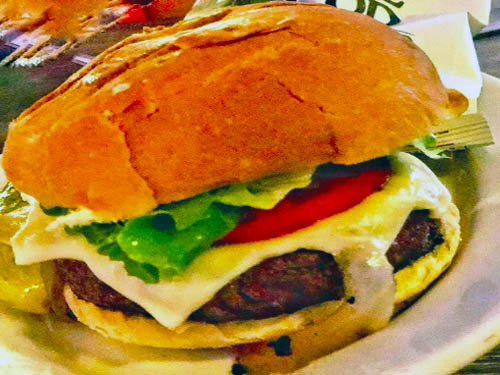 Harpoon's on the Bay is located just off Cape Island, but their burgers are worth taking a short drive. Their fresh never frozen 10 ounce burgers are made with certified Angus Chuck beef and served with a side of fries and a beautiful bayside view. Try their "Plain Jane", "Bacon Bleu," or "Burner" burger with roasted long hots and their secret sauce. 
Impossible Veggie & Vegan Burgers
Looking for a delicious meatless burger alternative? Check out these local eateries serving up Veggie and Vegan burgers!
Don't see your favorite burger joint on this list? Click on the button below to see the complete list of Cape May restaurants with burgers on the menu. 
Sign up to receive emails, special offers, and insider information from Cape May Eats. Be the first to know about Cape May dining updates.